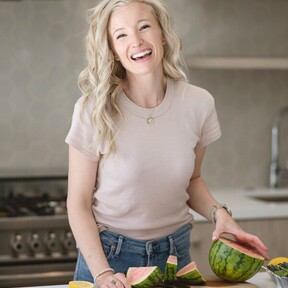 Through education, encouragement, and accountability, I've had the opportunity to coach hundreds of individuals and teams through their unique set of barriers and desired health outcomes. I specialize in tailoring evidenced-based nutrition counseling and lifestyle support to the needs of each client. My goal is for each of my clients to successfully create lifestyles centered around sustainable weight loss, chronic disease management/prevention, while creating gratifying eating habits, gaining confidence in their health, achieving work-life balance, and fueling themselves with the highest quality foods in the most efficient way.
As your Dietitian and Health Coach, I'm committed to investing my expertise, energy and passion into seeing you achieve the health, habits and lifestyle you deserve.
What are your credentials?:
Licensed (e.g., massage, medical)
Certified (e.g., yoga, meditation, nutritionist, financial)
Registered (e.g., dietician, nurse)
Business Entity (e.g. LLC)
List any license numbers here or links to validate:
RD license: 86115213
What services do you offer?:
Certified Compliance Training - Workplace Safety
Alternative Health Services
Nutrition & Food Services
Team Building & Entertainment
Licensed Medical Screenings & Services
Licensed Mental Health Services
Certified Financial Services
Licensed Esthetician Services
Licensed Massage & Bodywork
Tell us about your education:
Didactic Program in Dietetics - Simmons College (3.89/4.0 GPA), B.S. Nutrition & EcoGastronomy - University of New Hampshire (3.77/4.0 GPA)
List any special certifications (e.g., CPR) here::
Integrative Health Coach Cert. - Institute for Integrative Nutrition, Diabetes Prevention & Lifestyle Coach - CDC National Diabetes Program
Describe your experience (awards - publications)::
Earned 100% patient satisfaction rate while working at Facebook's onsite health center.
Tell us about any past clients you've worked with::
Facebook, McKinsey & Co., Salesforce, Microsoft, Wayfair, Athleta, Lululemon, Dwell magazine, CANOPY
Have you received the COVID Vaccine?:
Are you ok with::
Virtual events (webinars)
Traveling (additional fee may apply)
No followed people