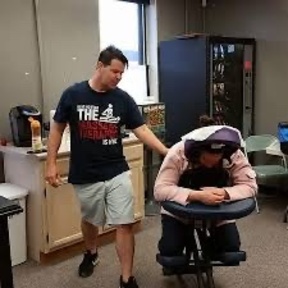 How did I get into massage? I was in a car accident and after being released from care from one chiropractor I tried another. Well, that led to my first massage appointment. I have been a believer of the healing benefits since. I have worked in Las Vegas, Nevada, Rhode Island and New Hampshire. I've trained coast to coast and will continue to do so. I do all I can to make the client have a great massage session. After all, you only get 1 opportunity for a 1st impression.
Are you able to provide proof of liability insurance coverage (COI)?:
What are your credentials?:
Licensed (e.g., massage, medical)
Certified (e.g., yoga, meditation, nutritionist, financial)
Registered (e.g., dietician, nurse)
Business Entity (e.g. LLC)
List any license numbers here or links to validate:
Rhode Island # MT01439 New Hampshire # 7829 Nevada # NVMT 7209
What services do you offer?:
Certified Compliance Training - Workplace Safety
Alternative Health Services
Nutrition & Food Services
Team Building & Entertainment
Licensed Medical Screenings & Services
Licensed Mental Health Services
Certified Financial Services
Licensed Esthetician Services
Licensed Massage & Bodywork
If you selected "other", list those languages here:
I bring a translation device if requested.
Tell us about your education:
BA Management RI College, Massage Certificate (600 hours) Arthur Angelo School in Providence RI
List any special certifications (e.g., CPR) here::
CPR
Tell us about any past clients you've worked with::
I mainly work on injured clients. I love the challenge.
Have you received the COVID Vaccine?:
Are you ok with::
Virtual events (webinars)
Traveling (additional fee may apply)
No followed people